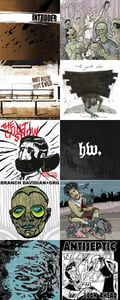 €

2.50 - On Sale
DH01 - INTRUDER - s/t 7"
Intruders first regular own record includes 9 songs of fast and energetic old-school hardcore with some melody and a positive attitude. The voice of singer Till is much more agressive than we have known so far... Beautiful silkscreen artwork.
DH02 - STRENGTH APPROACH - piece by piece 7"
From their first live appearance, the kids took notice of the energetic performances and the band's notoriety grew within Rome. Despite a few line-up changes, the band never slowed down and continued to record and put forth other material. STRENGTH APPROACH offers up 6 songs of straight-edge hardcore that rivals the energy of bands like the early Revelation bands. They're outspoken and passionate about living their live drug-free. This records may induce circlepits and fingerpointing. The top snotch artwork is done by Mike Bukowski. Colored vinyl as well! Mosh ist up and sing along!
DH03 - NOT NOW NOT EVER - s/t 7"
One of the best new german bands with their amazing debut 7". Dynamic hooks and leaning melodies combined with strong and driving choruses complement the sound. An explosive mixture for fans of old-school classics combined with the best of nowadays modern hardcore. In the vain of COMEBACK KID, ANOTHER BREATH or JUST WENT BLACK. Nice Artwork and colored vinyl as well.
DH04 - MAKE IT COUNT - s/t 7" SOLD OUT
Limited edition of 300 handnumbered copies for their summer tour with TERROR in 2007.
DH05 - GUILT SHOW - those who do wrong... 7"
The Guilt Show's debut 7". Fast and angry hardcore that combines the sound of early American Nightmare with some elements of 90ies hardcore. Lyrics deal with social and political issues. Artwork by DEREK HESS!! 500 copies on white vinyl.
DH06 - GUILT SHOW - before they know... 7"
follow up to their debut 7" with 6 songs of fast and angry hardcore that combines the sound of early American Nightmare with some elements of 90ies hardcore; lyrics deal with social and political issues.
DH07 - HOMEWRECKER - portrait of nothing 7"
HOMEWRECKER (us) are new band from Ohio. After self-releasing a CD EP in 2008 they now show up with damn pissed high speed trashcore. Adding some heavy breakdowns and hard-hitting mid-tempo parts they will make you wrecking your home while listening to this blast of a record! If you like CEREMONY, TRASH TALK or (early) R.A.M.B.O. you are not allowed to miss this!
DH08 - GRG / BRANCH DAVIDIAN - split 7"
Simple, dirty and straight forward played trash/fastcore/powerviolence on this Oklahoma/Texas split record. 4 songs each band and both with ironic lyrics. Weird stuff!
DH09 - WHILE YOU WAIT - my end, my rebirth 7"
Hardcore inspired by refusal to accept the system of values of the modern world and voice of anger travelling through melodies of HC new school, fueled with old school energy. One time pressing of 300 copies.
DH10 - BLACK SPIRALS - consuming the rests 7"
France was not known for bearing great hardcore bands during the last years but at times there are some really promising and fresh bands on the rise. And Black Spirals from Paris tops them all with their uncompromising sound. Their music combines different hardcore styles at which the most obvious influence is TRASH TALK - fast parts, heavy breakdowns, agressive vocals - but all played with an originality and a variety that makes the songs very diversified. An exceptional record far above average.
DH11 - ANTISEPTIC - look ahead 7"
Three chords HC-Punk, lo-fi recording, pissed off vocals, furious pace and in your face lyrics. There's no time spent trying to interpret songs or figure out the" inner meaning" of this band. This band is all against states authority, narrow minds and otherwise useless people.
DH14 - CHRISTER PETTERSSON - s/t 7"
Christer Pettersson delivers an excellent debut 7" vinyl with 13 tracks of super fast hardcore/power-violence taken to that insane level you know you'll love. Screaming intense in-your-face attitude combined with radioactive riffs. You'll find short, energetic songs packed with pop-cultural references. Lyrics in both English and Swedish.
DH17 - xMOMOx - stop time and break out 7"
Vegan Straight Edge HC from Germany with a 90's influence that can't be denied. Heavy, midtempo and dealing with political issues. Great bands like CHOKEHOLD, STRAIN, SNAPCASE or UNDERTOW come to my mind during listening to the songs.
DH18 - CHRISTER PETTERSSON - empatihaveri 7"
2nd record of those Swedish trashers! This time with linernotes in English language...Nice artwork, highly recommended!